Enews142 Destination Kaohsiung, Formosa
出自KMU e-News
高雄醫學大學e快報 第142期  分享園地

本校98學年度國合會外籍生獎學金計畫共招收3位外籍學生,1位來自甘比亞、1位來自瓜地馬拉、1位來自海地,另外1位來自索羅門群島的外籍學生是本校助學金受獎生,4位學生皆就讀醫研所臨床組碩士班。他們將陸續在e快報發表文章,自我介紹或是抒發生活上的感想,期待本校師生能更了解這些遠道而來的外國朋友。此期由來自瓜地馬拉的雷凡卓(Ivan)分享他的心情點滴。
23° 3′ 0″ North, 120° 27′ 0″ East
Destination Kaohsiung, Formosa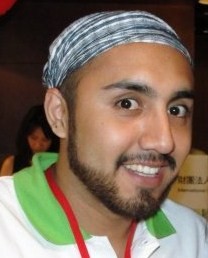 雷凡卓 Ivan

"And suddenly there was "Formosa", right in front of me, lights, buildings and people… so many things…"
So… what you do? Because suddenly and in a few hours, you will be leaving the country where you live and be leaving it for 2 years. Well easy, you wake up, or better said you sit up from your bed (because it was impossible to sleep the day before anyway), grab your luggages, barely eat something (or nothing) and rush to the airport, getting there with just enough time to say "bye mom, bye dad… Don't you cry, remember: with the face toward the sun and the forehead facing upward" as the last words you say before you leave.
I'm not writing about the place where I come from, that you can google; it is better to tell you how I felt from the moment I left Guatemala to the very moment that I'm writing this. The flight was very impressive, though it was too long and very uncomfortable. The food was ok and the planes' seats, as always, were too small for my size. I had to transit through USA and there is nothing to say about the short time I spent there because I didn't like it (any other information about that country you can google it as well).
Ok… So, finally, and after 20 hours of flight or so without sleeping, I have it, right in front of me shining like a crystal, there it is and just for me, the incredible "Formosa", the beautiful and mystic Formosa, the enigmatic and unique Formosa, with its 23 millions or so people and its 36,919 km2 of total area with its unique color and style. This is the first time I see a place like this, the first time with this kind of weather and finally got to experience the jet lag, that such an awful situation. I also had a huge allergic reaction which made me so sick that I had to take some medicine. But everything was ok, everything went great. I didn't even feel sad, nor did I feel out of site; actually being here, somehow, feels like home. It is like going back to the place I have been looking for a long time (like going back to the matrix if you know what I mean).
Being here also I discovered a new kind of food with a different taste; nothing similar of what I am used to, and actually I like it! I also got to see the new gamma of color of Taiwan's people, a new behavior, a new beginning… and it hits me, like a thunder and out of the blue… didn't see it coming (I have to be sincere), the beauty of the Taiwanese girls, each and every single one of them are like angels, I will say no more, as I do not want to get into trouble.
So now I am living in Kaohsiung, doing a Master's degree in Clinical Medicine and hoping that everything is going to be okay.
As you can see, my first impression of Taiwan is good and I think it will get better.
Peace out and have a good day!!!
P.S. thank you Kebba, Alisha and Stan.